Skins
Best CS2 Skins with 3D Effect
The skins displayed in this article all share a common attribute: they have a cool 3D effect.
5. Glock-18 Ironwork
Glock-18 | Ironwork (Factory New)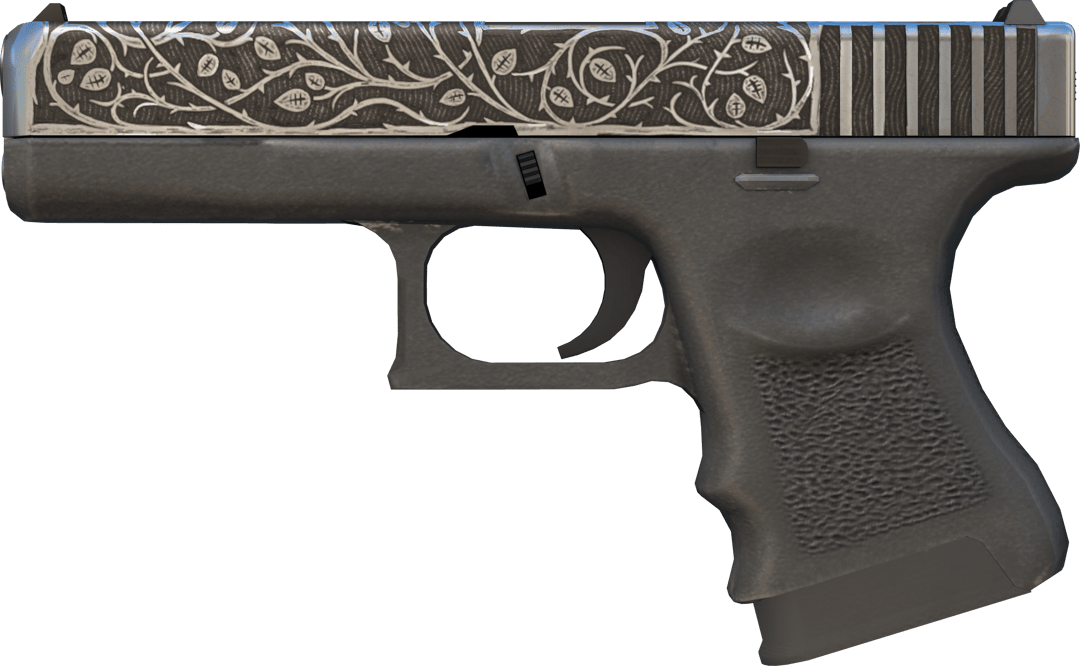 The Glock-18 Ironwork faced a challenging initial release. The intricate 3D effect, absent in CS:GO, finally came to life in Counter-Strike 2. Its top surface is adorned with a silver vine weaving through a dark background, creating a voluminous and distinct appearance against the dark backdrop.
4. Desert Eagle Corinthian
Desert Eagle | Corinthian (Factory New)
The Deagle offers a variety of skins, some adorned with intricate engravings or striking optical illusions. Among them, the Desert Eagle Corinthian stands out as a notable representative of CS2 skins with an impressive 3D effect. Unfortunately, it often went unnoticed in CS:GO due to the lighting system, but in CS2, with brighter visuals and improved graphics, it has experienced a revival.
This bronze-hued beauty boasts detailed inscriptions on the top and a handle with a leather-like texture. The Corinthian is a commendable skin, and its appeal is such that acquiring it in Minimal Wear condition for just a dollar would undoubtedly be considered a steal.
3. AWP Black Nile
AWP | Black Nile (Factory New)
The AWP Black Nile made its debut a mere six months ago, yet despite its recent introduction, it has already secured a position among the most remarkable AWP skins. Its appearance is elegantly straightforward—a black foundation with silver lines meticulously crafting a topographic map of the Nile River, the iconic waterway of Egypt, the realm of Anubis.
However, the true magic unfolds when you inspect this skin up close. The silver lines seamlessly collaborate to produce a mesmerizing three-dimensional effect, captivating anyone who beholds it. Adding to its allure, the AWP Black Nile boasts a distinctive wear effect: as its float increases, the silver lines transform into a resplendent shade of gold.
2. M4A1-S Basilisk
M4A1-S | Basilisk (Factory New)
The M4A1-S Basilisk underwent a subtle transformation in a recent CS2 patch, particularly in the saturation of its body colors. This adjustment is most noticeable in the dark areas, which have become even darker, intensifying the dramatic emphasis on the basilisk's textured skin. Notably, the skin's finisher is "Patina," causing it to darken further as the float increases. It is advisable to opt for a Minimal Wear item, as it strikes a balance and prevents the skin from appearing excessively dark.
1. AK-47 Cartel
AK-47 | Cartel (Factory New)
The Cartel skin series employs normal maps, which are crucial for creating a volumetric effect on skins, in a restrained manner. This means that the engravings on the skins won't be overly pronounced. However, this characteristic is actually a positive feature for the AK-47 Cartel. If the engravings were more prominent, it could lead to excessive visual noise. The AK-47 Cartel adeptly blends a brutal aesthetic with subtle motifs from traditional Mexican folklore, resulting in an unexpected yet remarkably cool combination.